I decided the other day that my mother and I were due for a girl's outing. We (or rather I) decided we should go out for lunch. We went to the Shaker Mill Tavern in West Stockbridge, Massachusetts. They've got a traditional tavern feel – open floor plan, wood floors, inviting bar.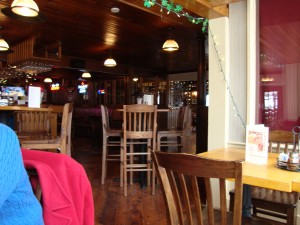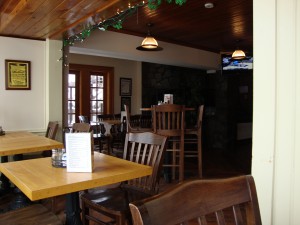 The Shaker Mill Tavern is open for lunch on Fridays and Saturdays from noon until 4pm. Dinner is served Monday through Thursday 4pm until 9pm, Friday and Saturday nights from 4pm until 10pm and on Sundays from noon until 9pm. Mom and I arrived a few minutes after noon and were seated right away. We had a sweet little table right in the front window. It was early in the day so it was just a diet soda for myself and coffee for Mom while we perused the menu. For an appetizer Mom got the soup of the day, Potato Leek, and I had the Clam Chowder. My Chowder was jam-packed with clam pieces. For our meals, Mom had the Grilled Sage Polenta from the Appetizers. It was the perfect size for lunch and came with sauteed mushrooms, leeks, capers, parmesan cheese and tomato sauce. Beginner blogger blues – I forgot to snap a picture of it before Mom got to it. By the time I remember to get my camera out, there were only a few crumbs of polenta nestled in the remaining sauce and you didn't really want to see a picture of that, did you? For my meal, I had the Shaker Mill Tavern Salad. It was arugula, roasted mushrooms, shaved parmesan, and sunflower seeds with a lemon vinaigrette on the side.  The salad was a nice balance of the peppery arugula, salty sunflower seeds, savory mushrooms and the salty, creamy parm. It was quite large and only ended up eating about a third of it. I took the leftovers home and had it for dinner that night too! Yummy!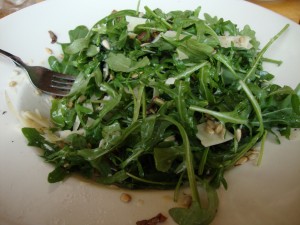 As I mentioned, I was late in snapping pictures. I had already mixed my salad up and eaten some of it – I swear it arrived looking very pretty though! I've really got to work on resisting the urge to dig right in to meals and remember to take the pictures first! All in all, Mom and I had a very nice meal and some great conversation.
Here's a link if you'd like to find out more about the Shaker Mill Tavern